Tom:
Killer Joe,2012,USA
Director: William Friedkin
Stars: Matthew McConaughe, Emile Hirsch & Juno Temple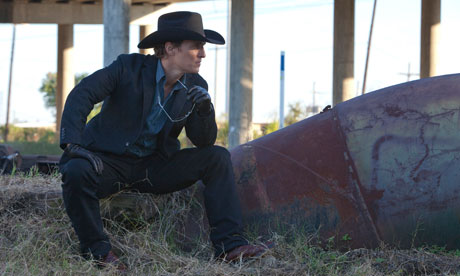 Killer Joe Cooper: That poor, miserable bastard set his own genitals on fire just to teach his girlfriend a lesson. I guess he showed her. I wonder if she ever got over it.
Dottie Smith: Was he all right?
Killer Joe Cooper: No. No, he was not all right. He set his genitals on fire.
Film #9 of The December Project
I had heard a lot about 'Killer Joe' both good things and bad. To be honest, After seeing the poster many times, I thought that film was headlined by Woody Harrelson and that guy from the remake of 'Friday the 13th', It wasn't till like last week that I discovered neither of them were involved in the film, but I digress...
Chris Smith, is a young,stupid kid who is in debt with some dangerous people, he decides to put a hit on his horrible mother to gain her insurance in order to pay of his debt. To do so he enlists the assistant of 'Killer' Joe Cooper, a ruthless and sinister Police detective.
Its been far to long since Director William Friedkin made a notable film, but alas the wait is over because 'Killer Joe' is that film. Its a film that has made people talk and rightly so. A swift, tough and sleazy film that takes place in the heart of Texas. 'Killer Joe' is the kind of film that makes you feel dirty just watching it, In almost the same way 'The Texas Chainsaw Massacre' does, its a grimy and violent little film that strays far from the typical Hollywood standards, although it does feature a big Hollywood star.
'Killer Joe' is written by Tracy Letts, who adapts his own play, Letts seems to be critical of the people who attempt to take easy ways out of strenuous situations, and disgustingly corrupt authority figures. Letts screenplay is exhilarating and frightening and the experienced director Friedkin does a good job bringing it to the screen.
The films greatest attribute is Matthew McConaughey's performance, WOW the man has never scared me so much, hes insanely creepy,intense and always threatening,its a fantastically horrifying performance and truly despicable character. The scene with the chicken is so damn disturbing.
I honestly found this film quite frightening and liked it a lot more than I thought I would. Its creepy, intense,brutal and Friedkin proves that he can still make quality films. Also what an ending! I'm not sure yet If I loved it or hated it.
***1/2