Tom:
50/50,2011,USA
Director:Jonathan Levine
Stars:Joseph Gordon Levitt,Seth Rogen and Anna Kendrick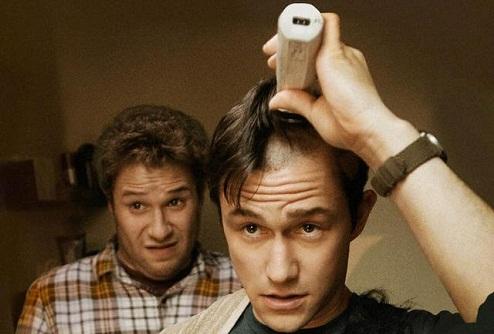 "Inspired by a true story, a comedy centered on a 27-year-old guy who learns of his cancer diagnosis, and his subsequent struggle to beat the disease."
"Adam: A tumor?
Dr. Ross: Yes.
Adam: Me?
Dr. Ross: Yes.
Adam: That doesn't make any sense though. I mean... I don't smoke, I don't drink... I recycle..."
There are few films that have been released in 2011 that have got the emotional reaction out of me that 50/50 did,which resulted in it being one of my favorite films of the year.The film excels in both the Comedy and genre as it is filled with hilarious humor while at the same time is extremely moving with many emotional scenes .50/50 is based on the true story of Screenwriter Will Reiser and his battle with a rare type of cancer.The film gets across its strong message of The Importance of friends and family during a personal crisis,The film is absolute triumph and is a credit to everyone involved.
The film stars Joseph Gordon Levitt as Adam,a young radio journalist who lives a regular life living with girlfriend Rachael(Played By Bryce Dallas Howard) and works with his lovable best friend Kyle(Played By Seth Rogen),After suffering a receent case of back pains Adam goes to a doctors to get them checked but discovers that he has a life threatening form of cancer,With a 50/50% chance of making it through alive Adam must be able to count on the people closest to him to support him.
For a comedic Drama 50/50 tackles a pretty serious subject matter,It depicts a real issue that unfortunently too many people in modern day society suffer with,The film chronicles the struggle with cancer perfectly,We follow Adam through his weekly routine of chemotherapy and meetings with a young and inexperienced psychologist (Played By Anna Kendrick) We get a first hand look at Adam's descent into pain and fear as his chances for survival look thin,but thankfully he's best friend Kyle is willing to go every step of the way while still being able to show Adam a good time.The film really does a good job of balancing the seriousness of the subject with light hearted comedy,The film is never too sappy or too jokey.The film is very inspiring and moving tale of overcoming the odds and the last half of the film gets quite emotional as we the audience feel for the main character and want too see him pull through.
Joseph Gordon Levitt is an up and coming young actor who has given great dramatic and comedic performances in such films as "500 Days Of Summer" and "Inception" and in 50/50 he is terrific playing a very real and emotional character to absolute brilliance.Seth Rogen is good as always and provides some great comedic relief.Anna Kendrick and Bryce Dallas Howard also do a great job in their roles.
50/50 is my second favorite film of the year,The film is an emotional roller coaster ride while also being a hilarious comedy,It tackles a very real issue and does a brilliant job depicting it,featuring terrific performance,great Direction and writing 50/50 is a beautiful and brilliant film and one of the years very best.
Tom: 4/4